My mother and I are drawing near the end of our re-reading of Agatha Christie's complete novels, an informal challenge that I've written about here a couple of times before. We're in the final decade of her work now. Reading the books in order—something I didn't do before—it is noticeable how their quality declined somewhat in the end. Christie could still throw a fine twist, but the later books are much more wordy and rambling; she takes a hundred words to say what she used to say in fifty and takes much longer to get to the point about things. I think it makes a difference, too, that so many of the crimes under investigation in these later books take place in the past. She wrote some brilliant cold cases earlier in her career (a couple of them are among my favorites), but these are different. Here the detectives have to rely mostly on interviewing elderly people, most of whose memories are not very good, who ramble on for pages and usually get most of their names and dates wrong. The clues are in there somewhere, but since each interviewee seems to remember things a bit differently, it gets confusing trying to figure out exactly which person or incident mentioned is really the important one. I have a feeling that not every author could have gotten away with it, but at this point her publishers knew that anything with 'Agatha Christie' on the cover would sell, and wanted more no matter what the quality.
The one thing that has really jumped out on me in this re-reading, though, is the theme of how much times have changed, and a frequent bittersweet dwelling on the past. The opening chapter of The Mirror Crack'd where Miss Marple reviews all the changes that have come to St. Mary Mead was just heartbreaking when I read it this time. The modernized, impersonal shops—the supermarket where "you're expected to take a basket yourself and go round looking for things...and usually made up in inconvenient sizes, too much or too little"—the new housing developments. I think it has more impact when you've read the Miss Marple books in order; you remember quaint, homelike old St. Mary Mead in the pre-war days more clearly and to see it changed is that much sadder.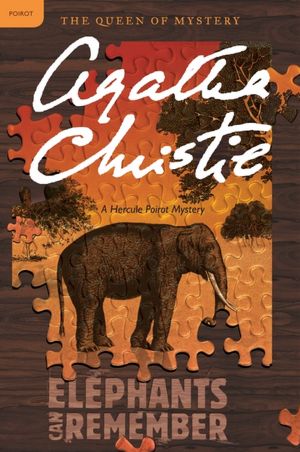 There is so much reminiscing and commenting on modern life by Miss Marple and Mrs. Oliver all throughout these later books, and it becomes increasingly plain that through these two older women characters you are hearing the voice of Agatha Christie, now an elderly woman herself, and her own views on a changed world. And then in at least three of the later novels, At Bertram's Hotel, Elephants Can Remember and Sleeping Murder, she deals head-on with themes of memory and nostalgia as part of the plots.
Having read her Autobiography, I could pick out right away that most of Miss Marple and Mrs. Oliver's memories of childhood and girlhood come straight from her own life. The most telling for me was in At Bertram's Hotel, when Miss Marple is relating an anecdote about her grandmother and mother, and mentions that her mother's name was Clara—Christie's mother's name. Even more than that, the 'voice' in which the anecdote was told could have come right from the Autobiography.
I couldn't help remembering how Christie wrote in her Autobiography about how she partly based the character of Miss Marple on traits of her grandmother's. And here, years later, it's she herself who identifies most with Miss Marple, whose voice is heard through her. It's another unconscious illustration of just how much time has passed, and how times have changed.